It's the end of the line for Annual Performance Reviews
A rapidly-rising trend puts a hard "No" on the annual review status quo. A study conducted by Adobe gives performance reviews a failing grade and points instead to programs that promote frequent engagement, real-time feedback, and defined performance tracks to help employees develop skills and learn from mentors and leaders. All-at-once performance reviews burden managers and employees with an unproductive and time-consuming year-end hurdle. And, they're stressful!
Inspiring performance and engagement from Day 1
Companies are investing in performance management and engagement software solutions that focus on employee growth and integration throughout the year and at all stages of their career. Leadership teams leverage technology to keep the lines of communication open for real-time evaluations, feedback, and high-fives. From interns and early career employees to executives, employee engagement surveys point to real-time feedback as one of the most impactful tools companies can deploy to increase job satisfaction, build cultural connections, and boost retention.
Business leaders like Deloitte, GE, Juniper Networks, Adobe, and Accenture are among organizations that have revamped their performance management programs, opting for real-time conversations (live and electronic) about performance. Business researcher Josh Bersin estimates that about 70% of multinational companies are moving toward this model.
How do your employees feel about annual reviews?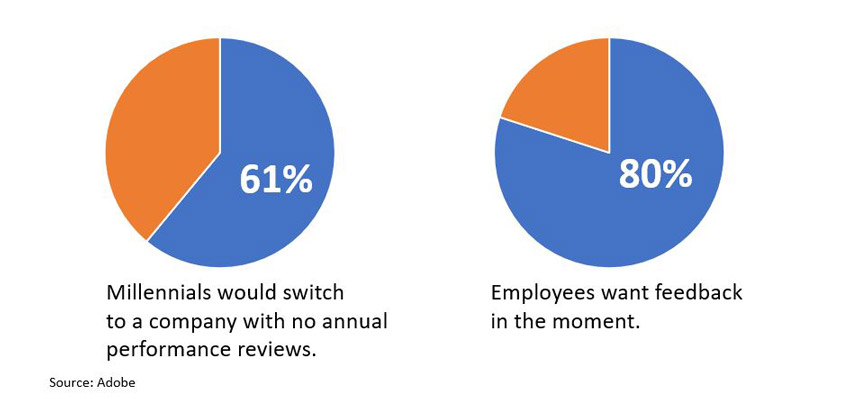 As workforce demographics shift, so do attitudes about annual performance reviews. Millennials and Gen-Zers simply don't like these old-school tools, and they're stressed about them. Interns, early career employees, and new management team members value consistent and constructive feedback over one-and-done approaches. We know that frequent feedback drives employee engagement, and engagement drives a company's success. Solutions that focus on real-time feedback put the spotlight where it belongs, on collaboration and communication which translates to a more productive workforce for companies willing to ditch old ways of thinking.
Companies looking to increase productivity and decrease stress, need to learn to communicate effectively, build smarter workflows, and embrace continuous feedback.
What's the bottom line?
Providing an outstanding employee experience is vital to maximizing employee engagement investments. Examine your employee communication cycles and adopt real-time communication solutions to take your company's productivity to the next level. Solutions like vi's Internship and Early Career Program Management platform enable and track engagement, satisfaction, project allocation, goals, and evaluations providing the foundation for an outstanding employment experience.
Learn more about new employee integration and internship program management. If you'd like more information about ditching annual reviews and embracing real-time feedback solutions, we'd love to help you. We can walk you through a demo, share customer success stories and case studies, and give you the resources you need to choose the right solution for your organization. We're ready to help, just visit the vi website for more information or connect with us on Twitter and LinkedIn.